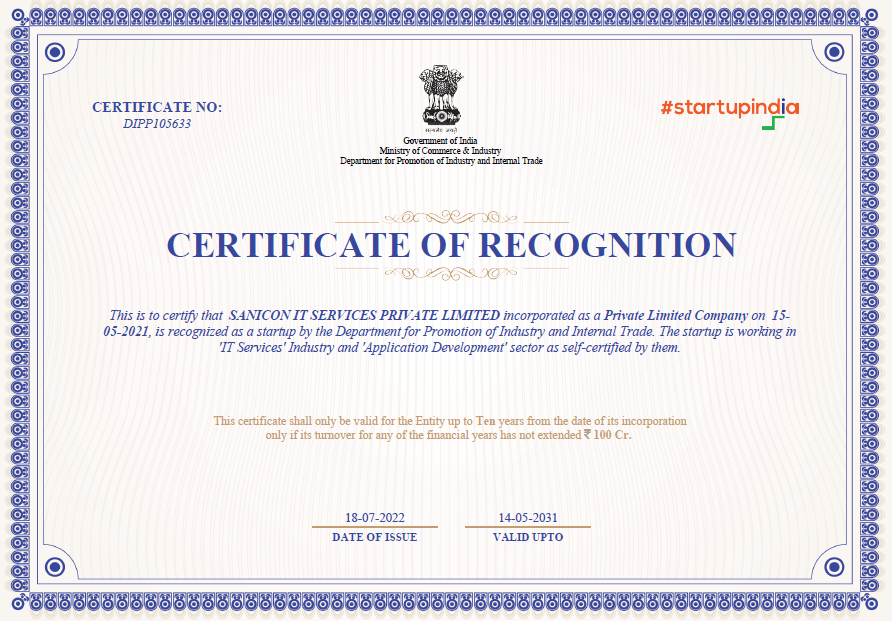 The DPIIT certificate of recognition for SANICON
Startup India is a flagship initiative of the Government of India, intended to catalyse startup culture and build a strong and inclusive ecosystem for innovation and entrepreneurship in India.
Founded in 2014, SANICON started as a partnership firm and later on 15th May 2021 was incorporated as Private Limited Company under the name of SANICON IT SERVICES PRIVATE LIMITED. It is classified as non-govt company and is registered at Registrar of Companies, Pune.
After the incorporation in 2021 as a new entity SANICON IT SERVICES applied for DPIIT recognition, under the Startup India initiative, eligible companies can get recognised as Startups by the Department for Promotion of Industry and Internal Trade (DPIIT) to gain access to a slew of tax breaks, easier compliance, IPR expediting, and other benefits.
SANICON IT Services as an eligible private limited company applied for the Startup recognition program by following the guidelines and submitting detail pitch deck with other relevant documents for obtaining a DPIIT Certificate of Recognition.
The DPIIT certificate of recognition for SANICON was issued on 18th July 2022 after the application and the necessary submission of documents and online review through the DPIIT G2B site, where anyone may also ask questions about their business, make a pitch, apply for a license, and maintain track of past licenses and filed applications.
As a relatively new entity, looking to get more recognition, it was beneficial to get registered under DPIIT. One of the major reasons startups should get their company or entity registered under the DPIIT recognition board is to attain the benefits.
We have a growing & experienced team, powerful partner ecosystem and some of the recognized leading vendors of infrastructure & software with whom we have joined hands to extend our full-service technology capabilities and provide customers with the best offering and expertise.
About SANICON IT SERVICES PVT. LTD.: Over the years SANICON – A One-Stop Cloud Solution Company have provided the most credible cutting-edge IT technology & services across various domains which helped customers around the world to start and grow their businesses and their digital transformation to cloud.
Reach out to us today at sales@saniconservices.com to get a reliable and affordable cloud managed service and IT technology partner
Visit website www.saniconservices.com to learn more about all great products and services offered.